R. O. Control Panel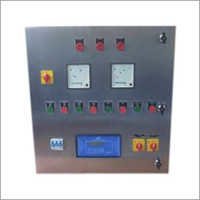 R. O. Control Panel
Product Code : IM - 08
Brand Name : IMPEL
We are well known as one of the premier R. O. Control Panel suppliers in the leading market. The offered control panels are procured from the prominent vendors, by our skilled procuring agents. Ideally suited for RO and softening plants, these control panels can be purchased from us in different specfifactiuons at market leading price. Our offered range of R. O. Control Panel is tested on various quality parameters at our vendor's end.
Features
Available in both 1 phase and 3 phase options
Protection from overloading
Single phasing protection

R. O. Control Panel

ESTABLISHED DESIGNS:-

FEATURES

IDEALLY SUITED FOR RO AND SOFTENING PLANTS
BOTH 1 PHASE AND 3 PHASE OPTIONS
MOTORS STARTED BY A POWER RELAY
OVERLOAD PROTECTION
SINGLE PHASING PROTECTION
TIME SETTABLE AUTOFLUSHING
MOTOR STARTING DELAY SO AS TO AVOID CHATTERING
TECHNICAL SPECIFICATIONS
PANEL SUPPLY: 230 VAC/440 VAC DEPENDING UPON 1 P / 3 P
PROTECTION OVERLOAD: 140% + 5% OF SET CURRENT
CURRENT RANGES : 2 – 12 AMPS
HP RANGE: 1 PHASE – 2 HP / 3 PHASE – 3 HP
POWER RELAY: 30 AMPS 12 VDC COIL
MOC: MS POWDER COATED BASE PLATE WITH ABS TOP COVER
DIMENSIONS: 206×160×80 MM
APPLICATION SPECIFIC DESIGNS:-
FEATURES
IDEAL FOR SMALL RO PLANTS
START AND STOP OF BOTH RAW WATER AS WELL AS TREATED WATER PUMPS THROUGH A SINGLE PANEL
ALL MAJOR INTERLOCKS PROVIDED
MIMIC TO DISPLAY THE STATUS OF THE PLANT
OVERLOAD AND DRY RUNNING PROTECTION FOR BOTH PUMPS
TIME BASED AUTOFLUSHING
PROTECTION BASED ON LEVEL AND PRESSURE IN THE LINE
LED'S TO DISPLAY THE FAULT CONDITION
DIGITAL DISPLAY TO INDICATE STATUS OF THE PLANT
CAN BE COUPLED WITH OTHER CONTROL PANELS
SINGLE PHASE AND THREE PHASE OPTIONS FOR BOTH PUMPS
TECHNICAL SPECIFICATIONS
PANEL SUPPLY : 400 VAC + 10%
POWER CONTACTOR: 9 A – 25 A TELEMECHANIQUE
CURRENT RANGE: 2 – 25 AMPS
HP RANGE: 1 PHASE – UPTO 2 HP, 3 PHASE – UPTO 5 HP
SINGLE PHASING PROTECTION : BUILT IN
DIMENSIONS: 190 × 222 × 110 MM
CUSTOM BUILT DESIGNS:-
FEATURES
NUMEROUS AUTOMATION POSSIBILITIES
NO LIMIT FOR HP OR CURRENT RANGES
LOGIC CONTROLLER PROVIDES COMPLETE AUTOMATION
LOGIC CONTROLLER WITH 16 DIGIT ALPHA NEUMERIC DISPLAY TO INDICATE THE STATUS OF THE PLANT
VARIOUS INDICATIONS FOR FAULT NOTIFICATIONS
SINGLE PHASING AND MOTOR PROTECTION
CAN BE DRIVEN IN AUTO OR MANUAL MODE
"Prominent wholesalers and retailers of water treatment components."